Rev 2.0 December 30,1997






Return to Harrys Snowdome Page



Cartoon Themes



Domes of Iowa



FARG0 Dome


Mail Order Domes


--
DECEMBER 97 FEATURED DOME: FLAT DOMES
---
Can we call these guys snowdomes? They're the wrong shape, being flat slabs. Still, they contain water/snow and some are even stencilled. They do have some good features. First, I have yet to find one in the dark modern style with a black base and silver gliiter. Most of these are bright and colorful. And secondly, they are pretty easy to photograph. You would be surprised at how hard it is to get rid of reflections on photographs taken on round domes.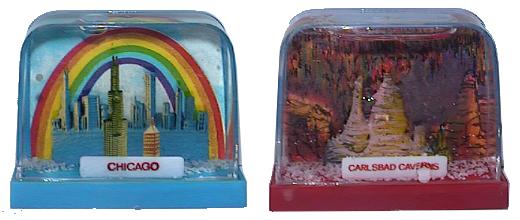 The Chicago dome shows off the Sears Tower, the Western Hemisphere's tallest building. I haven't decided yet what the second building is suppossed to be.
Carlsbad Caverns is over 1300 miles away from Sears Tower in the great state of New Mexico. Every evening in the summer, vistors gather outside the Caverns entrance, which is a huge gap in the hill. As it gets dark, thousands of bats fly out in search of dinner. It's quite a sight. From far away, they look like a swarm of gnats. You don't want to see them up close.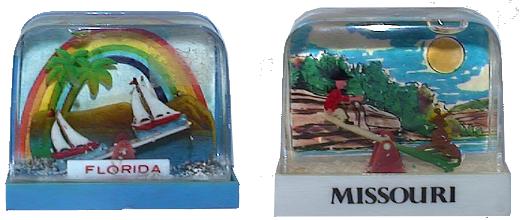 Teeter totters are a common snowdome theme and most of them make little sense. Here we have sail boats rocking away in Florida. In Missouri, we see a mountain man and his mule having some fun. This Missouri scene is also available in the classic snowdome shape.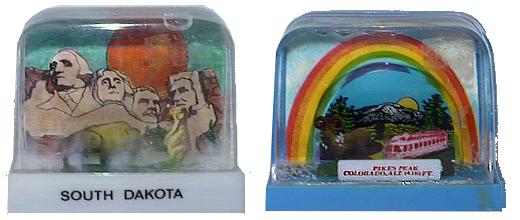 The foggy surface on Mount Rushmore is really just a bad glue job, but it is somewhat true-to-life since I've been there on days when you can't see the mountainside through the mists. Whenever I look at this dome, it seems like George Washington is trying to ignore his three buddies.

The Pikes Pike dome shows the cogway train that you can ride to the top. I'll share a Pikes Peak memory. I had set up a camera on a tripod to take a self-timer picture of the family. Running back to get into the picture, I tripped over a rock. CLICK! Everyone is looking down at Dad in the dirt. It was a good thing I didn't pose that shot by the cliff's edge, or I might have rolled all the way down to the gift shop at the base of the mountain.


---
Feel free to email me with your comments.