South of Florence, Oregon the highway takes some spectacular climbs up along hills and you will be driving along cliffs and looking down on the ocean. You might also find yourself stuck behind a trailer or in front of a lead footed impatient driver. If you're used to six lane freeways, Highway 101 might be a bit nerve wracking. I was glad I had turned down the clumsy Olds and Buicks, and the Ford Explorers that had been proffered at the rental counter. Instead, I took a Chevy which proved to handle quite well, even on the narrower and twisty back roads in
the Oregon high country,


It brought to mind my last drive on 101, where we had gone to Vancouver to see Expo 86 (Yes, I have that snowdome) and come back at night into Fort Bragg, California. In a big rental Olds Cutlass that I could barely hold on the highway, I saw the ocean glistening in the moonlight a hundred feet down the side of the road and the giant shadows of huge redwoods just a few feet from the edge of the winding road. Instead of being wonders to see, these things could kill us.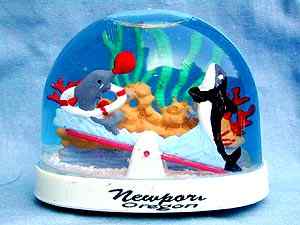 That year, we had to be in Fort Bragg by 9:30 PM as our reservation for the last room in the county would expire. Driving as fast as I dare in the dark, with the Olds bobbing and weaving on the turns, my daughter got car sick. We cruised to a stop in the forest. Utterly silent with scent of pine needles in the air. Moon in the sky. Little Amy tossing her cookies onto the moss. Our drive had a happy ending. We arrived with minutes to spare and there were people camped in the lobby waiting for us to not show up. Now if we hadn't gone into the Sea Lion Caves on that trip, we would have had plenty of time. Life on the road is full of tradeoffs.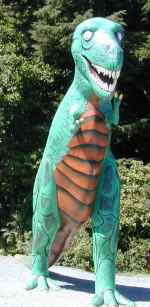 If sea lions don't interest you, how about a prehistoric park with plastic dinosaurs? It's on 101.

A few miles north of the faux T. Rex is a game park that suggests acres of savannah populated with big cats. It's really mostly full of goats and deer, but I got to pet a llama. This is a good stop if you're travelling with small children.

On the right is another dome I captured in the bush with my camera. I thought I already had it at home so I did not buy it.