Searching for the Trees of Mystery
Part 1. The Oregon Trail
Fourteen years ago, I stopped along highway 101 in Oregon to look at the coast. When
I came back to my car, someone had left a "Trees of Mystery" sign on it. We weren't
going that far south on that trip, but I took the sign home and stuck it on a rafter in my
garage.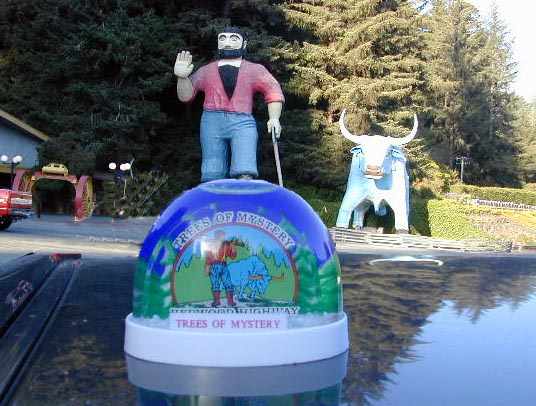 This summer, we returned to Oregon, looking for natural and manmade wonders.

We start near the end of the Oregon trail at The Dalles.
This was one of the West's first tourist traps. Wagon
trains either paid a hefty toll to go on, or took a risky
raft ride down the Columbia River.

Not far away in Washington State is a reconstruction of
Stonehedge. All the stone pieces are there so it doesn't
look as dramatic. Here, we met a outlaw biker sitting
there smoking dope. He had been waiting for someone to
come by and take his picture on his chopper with his
camera. He returned the favor and took our picture,
although my son thought he was going to run off with my
camera. Ha ha.

Gift shop was closed. Doubt if they had snowdomes.


It's really a monument to WWI
veterans. It's free too, Thousands
of cars must pass it very day and
never know it's there.

Any snowdomes at Stonehedge might have looked
like this one. This is a 4 inch (100 cm) dome.
Twice the size and just as ugly.

I snapped a picture and left it in the store.

Less than an hour north of Portland on US30 is the
Columbia Gorge. There you'll find the kind of good
old American ideals that preserved this scenery
for a park and snowdomes like the one above.
So what does the Trees of Mystery have to do with Oregon? More about that in the
next installment.