Tourist Traps of the North Woods
Hayward, Wisconsin
The National Fishing Hall of Fame in Hayward, Wisconsin brought tears to this old fisherman's eyes. Oh my. It's a tacky blue plastic dome with a giant muskie fish in it.

I've caught a muskie not much bigger than the one in the dome. They are mean fish. This little one was too small to take my hook. He just clamped his jaws around my minnow and wouldn't let go.

That's my fish story.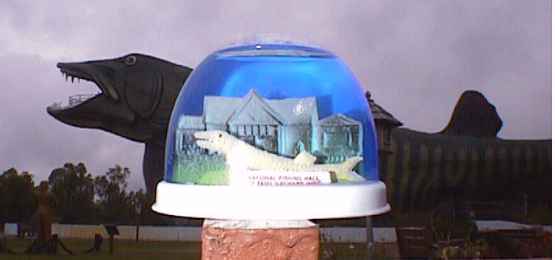 You can go inside the big muskie, climb a flight of stairs to the mouth and stare out at huge fish sculptures on the grounds. In the museum buildings are hundreds of old lures, rods, reels, and outboard motors. I loved it. My wife did not.
BUNYANS IN BRAINERD & BIMIDJI, MINNESOTA
A few years ago, I was visiting a museum in Minneapolis where I spied an old fashioned Paul Bunyan dome from Brainerd in a display case. It showed Paul sitting in his chair in the Brainerd Fun Park. I would have driven there that day, but learned it was 100 miles away, the highways were covered in snow, and even the Minnesoteans don't ride roller coasters in Februrary. I bided my time until this vacation trip where I planned a 200 mile detour in my route to to find him.

Paul is indeed sitting in his 15 foot chair in Brainerd behind the fence, just visible thru the ticket gate. Babe, his blue ox will be waiting in the parking lot. If you ask nicely, you can run into the gift shop inside the park and sneak a look at Mr. Bunyanwithout having to buy a ticket. There's a guy inside who makes him talk to park visitors. Hey Mister, did you pay for that T-shirt?

I was disappointed. Old Paul had turned into a lucite image with a stupid grin. This guy looks more like an elf than a lumber jack.

Another Bunyan and Babe duet is parked in Bimidji. They briefly appeared in a winter scene in the movie Fargo. I was sure I could find an authentic dome in this town.

I struck out. Bmidji is fishing country. No Bunyan domes, but I enjoyed seeing the 8 foot long telephone in the Bimidji visitors center.


Back to the main Snowdome page.
Rev 1.0 Spetmber 8. 1998