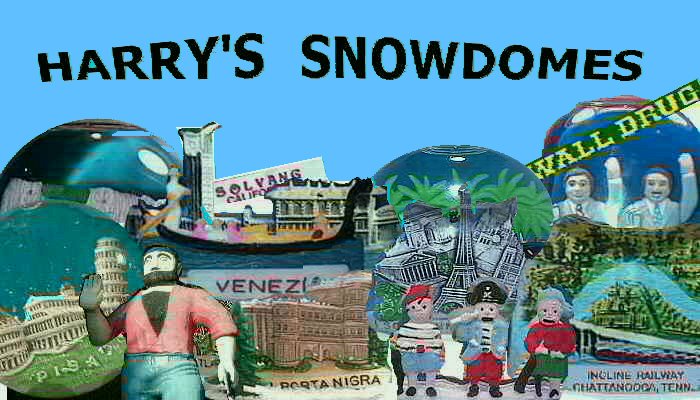 Welcome!
Now celebrating 10 years on the Internet, with no sales, no profits and no business model, and no updates sunce 2006, this is Harry's Snowdomes on the Web, which should have been known as www.whatididlastsummer.com.
Where Have All The Snowdomes Gone?
The Golden Age of Snowdomes is over. Tourist shops rarely stock the kind of domes I grew up with. Those snowdomes contained a scene unique to the area where it was sold, with a little sign inside that proudly proclaimed its "origin", although everyone knows they really came from Hong Kong. Today, the industry has gone to generic snowdomes, with interiors that could be anyplace, with the name stenciled on the outside. This site celebrates the modest little tourist dome, almost always blue in color and rich in history and algae. They can still be found and I'm searching.
I usually find my snowdomes the hard way, looking for them when traveling. I love road trips anyway, and if I see a detour off the highway to a likely roadside attraction, I'll take it to see what's there.
This is not a serious collectors web site. It's just for fun. Stay a while and I hope you enjoy your visit.
-Harry
Trier, Banff, Holy Hill
OK City, Atlantic City, Holland
Oregon Oddessey
Johnstown, Chicago, Houston
Harry and the Black Caves of Capri
Vancouver 2000
Riding a Bus thru Italy
Hacked Domes - homemade domes
Fargo. Not your normal tourist scene.
Buy car, get snowdome or vice versa
The Dark Side of Domes
Johnstown Flood - A truly dark dome
They made me go to Iowa
See Wall Drug
Domes that work! Calendar Domes
Toaster Domes
Fable Cottage, Georgia, Chattanooga
Disney's Beauty & Beast
Treasure Chests
S. Dakota & Other French Speaking Places
Domes via Mail
Looking for the big one. Tall Domes
2K miles in the Northwoods for 6 domes?
Green Gables & Jesse James
Sweet Home Chicago
no lucite
Planet H0lly00d

One final note. I keep getting mail from people who think this is a snowdome store. No we don't sell them. We just buy 'em.

feel free to email me